The Pub in Ireland is a very special place. More than a mere watering hole, the pub is part of our culture – the headquarters of many the group of friends, a place that bares witness to the celebrations and milestones in one's life: everything from birthday's, the new job, first dates, weddings, parenthood, even funerals and celebrating the memories of loved ones lost. A place where we learn many of life's lessons and a place to unwind and unite in conversation, banter & craic. The pub is integral to our society here, an institution. It's not an exaggeration to say the Irish pub is a place unlike any other the world over and as such it is surrounded by an almost unspoken reverence & respect.
Visitors to Dublin and Ireland are inevitably aware of our long-standing thriving pub culture, aided by the world-famous legacy of Guinness & Irish whiskeys and the ever popular Irish stereotype - a hangover from the 'stage Irish' character (but that's a whole other story) but often it's only when the foreigner pops their pub cherry here and can really engage with what's happening that they can understand and appreciate this reverence and indeed love it as much as we do. That experience, for many visitors it seems, is very much at the heart of their memory and affection for Dublin & Ireland.
Wrapped up in all of this romance around 'the pub' is a distinct code of etiquette to which we adhere and this can tend to cause some confusion among the first-time visitor but fear not Ireland-bound backpackers, we've put together the do's & don'ts, tips to follow and faux pas to avoid in the Irish pub. With Paddy's day looming many of you, will no doubt be on your way here soon so read on to prevent red faces...even green face-paint can't hide the shame of fucking up in the boozer.
Let your guard down
An old adage from WB Yeats goes "There are no strangers here, just friends who haven't met" and that's no truer than in the pub. We Irish love to chat and meet people, especially new people from distant lands so let go of your inhibitions and the urge to shout "stranger danger"; be open-minded and let the banter flow and make new friends...if even just for a moment, a drink, the night or a lifetime, you won't regret it. And it will soon become apparent if they're a creepy perv in which case you can just gracefully excuse yourself to 'make a call', never to return,  or embrace the creepiness, whatever floats your boat. Either way - nothing ventured, nothing gained.
The Round
This is very important and deserves an article all to its own. Be aware that when welcomed into a group of locals you will be offered a drink – usually by the next person heading to the bar (we order at the bar. Table service is so rare in a pub that it's essentially non-existent). At this stage, you have a choice – to enter or to not enter into the 'round system'. Should you accept the drink it is on the understanding that you will return the favour. This is the round system. Keep in mind that there may be any number of people in the round (generally larger groups tend to form into 'rounds-splinter-groups' of threes or fours) and it is understood that each person will 'get their round in' i.e. buy a drink in return for each person. So be prepared to consume and purchase as many drinks as there are people in your round. If you'd rather not commit to the round system that is perfectly fine and all you need say is "thank you new buddy, but I'll look after myself as I don't yet know how many beverages I shall consume on this, the finest of evenings".....or some such.
Do the shuffle
When ordering drinks you go to the bar which on a fairly busy night might be four or so people deep. Be patient & polite, but firm. It might feel like chaos but, in fact, there is a queuing system occurring within the immediate vicinity around you. As one person leaves the bar clutching pints and bottles, turn to the side to allow them to pass while shuffling into space they have vacated...if the person to your left or right can also access the space whichever of you arrived first is entitled to fill the gap and order. Wait your turn.
Top tip
; The very fact that you went to get your round in will have earned you 'sound' status among your new found drinking buddies (sound is a local word for a very nice, honourable person)....return with a couple of packet of crisps for the table to share and you will be immediately granted legend status!
Thank you bar-keep
Again, be patient – the bar staff will get to you. Waving your money or your arm about, shouting, whistling or any other form of attention seeking will guarantee you a very long wait at the bar. Friendly eye contact, a polite nod or a telling smile is the way to let the barman or barwoman know you would like to order and always say please and thanks. These guys and gals work super hard and it ain't easy so don't be a dick. That said, tipping at the bar here is not the norm but saying "keep the change" once in a while will do no harm for your waiting time when ordering next
A single plum floating in perfume served in a man's hat
If ordering a particularly large round consisting of a variety of different drinks you may be tempted to break the order up into two parts. If so, always order the Guinness first as it takes longer to pour (but more on that in a moment), then other pints, then shorts, then bottles....basically order them according to which takes the longest to the shortest time for the bar staff to make happen.
Good things come to those who wait
Patience is a virtue, especially when it comes to your pint of Guinness. Guinness is poured in two parts with a waiting time of what can feel like an eternity in the middle. This ritual harks back to when the beer used to be poured from two different wooden casks, one of fresh new beer and topped off from another, older and sourer batch. There was a large degree of cellarmanship and skill involved in pulling the perfect pint. That was pre-1950's before Guinness introduced the single, stainless steel kegs with nitrogen gas to create the head of the pint. The two-part part pour actually makes no difference to the taste of your Guinness now but does result in an aesthetically pleasing pint....a ritual maintained for fear of consumer backlash which is carried through to today, a bit of theatre that Guinness drinkers hold dear so don't you dare demonstrate your impatience, it'll be ready when it's ready.
When you do finally get your paws on it you'd best wait until it's settled with a clearly defined solid black body and white head before putting your lips to it or risk being booed out of the pub...near blasphemy! And another thing, it's not a drink to down like a macho man, savour it, appreciate it and relish it. Not that you'd be able to skull your very first real pint of Guinness ever, it's an acquired taste, a bit like sex really... the first time might be a bit unpleasant and awkward but keep at it and it soon becomes one of the best things in the world.
Respect your elders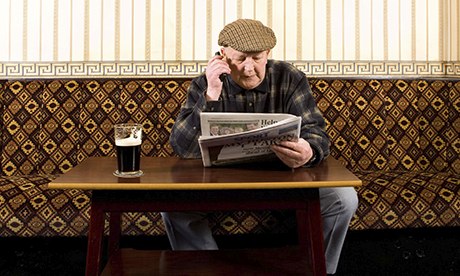 Every pub has at least one, the local aul fella who has sat on the same bar stool since he began drinking in that pub at the age of 15. He's earned VIP status in the pub and everybody (locals, that is) knows his name. They are not to be disturbed, don't dare sit on his stool...even if he's not there, he might come in any moment and they are fully entitled to be grumpy. If he starts singing a song or telling a story out of the blue shut the fuck up and listen!
Didley-aye
Many pubs will have traditional Irish music sessions whereby a number of musicians play tunes together usually without microphones and speakers. The general rule is if you're not bothered about listening attentively to these tunes don't occupy seats or standing space in the immediate vicinity of the musicians. If you are close to the musicians don't raise your voice to near shouting levels to talk over the 'noise'. Just sit somewhere else further away from where it's perfectly acceptable to converse at higher volumes. Often tunes will be interspersed by a song, probably solo by one person without instrumental backing so in this case the pub is expected to quieten down out of respect not only to the singer but to the song itself and its very worthy place as part of our oral tradition within the public house.
You don't have to light up to be in the smoking area
Ireland was the first country in the world to introduce a smoking ban in places of work (2004) and this included the pub. Many people and publicans were terrified that this would adversely affect the pub lifestyle but in fact it meant that non-smokers were much happier to not end up stinking like ashtrays while suddenly pubs found space from thin air for outdoor, sheltered smoking areas and beer gardens and these smoking areas are more than often full of craic and fun...sometimes more so than inside the pub. For some reason being out in the smoking area is a license to chat at random to anyone at all, which is great and it's now common for even non-smokers to spend their entire night settled in the beer garden/smoking area absorbing the fun (and second-hand smoke).
Tip 1:
always handy to have a good jacket...just because it's fun doesn't always mean it's warm.
Tip 2:
If you happen to get a smell of the "wacky tobaccy" as my mother calls it, it usually means the pub isn't too hung up on customers' recreational marijuana use (despite it being illegal) but this does not mean that it's ok to get excited like a young boisterous labrador puppy and follow your nose in the hopes of being granted a toke of the peace pipe...don't be that guy / gal...
play it cool
.
Tip 3:
Smoking inside is usually allowed during a lock-in. That is when the pub has officially closed and the vast majority of people have vacated and a lucky select few are allowed to stay locked inside the pub for a pint or six. If you are one of the lucky few granted this privilege and a non-smoker be prepared to go home smelling of cigarettes. Coughing intentionally to demonstrate the inconvenience and waving smoke clouds away with your hands will totally undo all of the good work that got you this far in the first place, after all you can just leave when you like. The lock-in breaks all the rules, including flouting the smoking ban, and it's that novelty that makes it something of a holy grail for achieving the ultimate pub experience so don't spoil it for your fellow drunks by being a square.
Tip 4:
Hearing a glass smash is usually immediately followed by cheers from all around the pub or shouting the word "Taxi"...insinuating that it's time for whoever broke the glass to stop drinking and head home.
Tip 5:
Religion and politics are generally a no-no for conversation topics. That said, there are many passionate Irish people who won't mind filling you in on Irish history if you have a genuine interest...especially our
Free Tour guides
;)
Tip 6:
The 'Houdini' (or Irish exit' as I've heard it being referred to as) is the process of simply disappearing without saying goodbye due to being fairly bollocksed already and avoiding the whole "ah stay for one more" debate...it isn't necessarily honourable but totally understandable.
So that's more or less it peeps...of course, there are almost endless hypotheticals and 'ifs' that can accompany all of these points..especially the round system which is quite complex in that regard but if you follow these simple enough guidelines you will have no issue doing the pub like us Irish do.
Enjoy and of course be responsible (to a point).
Cheers,
Mike Wrach