Amsterdam offers so much for the curious traveller to enjoy – a landscape punctuated by meandering canals, a lively and modern cosmopolitan atmosphere blending seamlessly with old- timey personality, unique character, colourful buildings, liberal culture, delicious food, and a rich tapestry of history and heritage. The perfect city to explore by foot, joining a free walking tour in Amsterdam is a great idea; but which one? Here's the best free tours in Amsterdam for you to compare and help you choose the ideal free tour, with a local Amsterdam city tour guide, for you!
Amsterdam Free Walking Tours for general overview & essentials
With an impressive 9.2 Freetour.com rating, the Free Amsterdam Classics and Highlights Tour by Amsterdam Classic Tours is a nice and relaxed paced free city tour in the Dutch capital which covers many of the essential sights and sites and topics of interest, including The Jewish Quarter, the Golden Age of Amsterdam, the heritage of the charming Canal houses, the impact of World War II, and much more besides. The group sizes are usually relatively small - which makes for a more intimate kind of tour experience while still being fun – and the tour guides are local, professional, and of high quality. This free tour starts at 11am from Damrak 28, beside the water across the street from the Intertoys shop, five minutes' walk from Amsterdam Central station on the Amsterdam metro map.
A potential downside with this free tour option though, is that currently it only runs Thursday to Sunday inclusive. Fret not though, dear free tour fanatic, for there are daily free walking tours in Amsterdam too.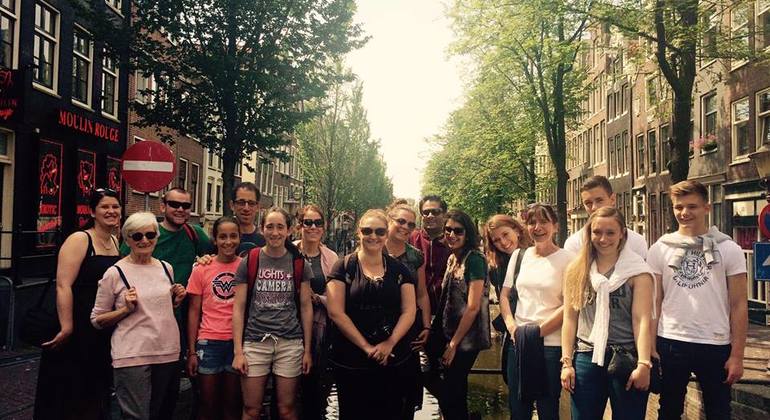 Daily free walking tour Amsterdam
One such free tour of Amsterdam that runs every day is City Free Tour Amsterdam by City Free Tour. This city tour is perfect for an informative overview of Amsterdam and Holland. It's a 2 hour walking tour and covers must-see sites & landmarks and popular themes, much like the previously mentioned tour; but City Free Tour also has a little more focus on the architecture of Amsterdam, including the Royal Palace on Dam Square, the Old Church, the Rembrandt house, Nieuwmarkt, and the old Jewish Quarter, so if you are a fan of building styles and heritage, this is a great free tour option too. You can meet the guides in Nieuwmarkt square, in front of De Waag restaurant.
Red Light District Amsterdam Free Tour
The same company, City Free Tour, also provide an intriguing and tasteful free tour of Amsterdam's notorious Red Light District, starting at 7:30Pm on Thursdays, Fridays, and Saturdays from beneath Oude Kerk bell tower, next to the Belle Statue on Oudekerksplein - Old Church Square. A most infamous stretch of the Amsterdam city map is the Red Light District, and while the topic is a fixture on most Amsterdam walking tours, this free tour takes a more in depth look at the history of the area, how prostitution started here, and how the world's oldest profession is treated in Amsterdam today with regards working and human rights, and the social & cultural perception of the sex industry in Holland and the capital.
Alternative Amsterdam free tour
As well as the Red Light District, another unconventional aspect of local Amsterdam life is the coffeeshop culture. The legal consumption of cannabis in Amsterdam coffeeshops is both a draw and attraction for many recreational marijuana users and a source of intrigue for many curious visitors. The Free Alternative tour of Amsterdam by Free Walking Tours Amsterdam offers a really insightful look at coffeeshop culture and the history of coffeshops and drug tolerance here, as well as other topics and themes which make Amsterdam one of the world's most alternative cities, such as the vibrant squatting movement and local street art scene.
Free Food Tour Amsterdam
The company behind this Alternative tour of Amsterdam was awarded Best New Tour Provider worldwide in 2017 and 3 rd Best Free Tour Company worldwide 2018 by Freetour.com and they also offer a Free Food Tour of Amsterdam too.
Now, Dutch food may not have a reputation at the forefront of international cuisine, but there is certainly enough local culinary delights to warrant a walking tour in Amsterdam - be it kroketten or bitterballen, stroopwafel or delicious Dutch chocolate, this Free food tour of Amsterdam has it all and more, with free samples included. It's also a great source for local foodie tips rom your tour guide on where to eat, where to find particular foods, and the best food markets in Amsterdam.
The Free Alternative tour of Amsterdam runs on Wednesdays at 1:30 P.M., and the Free food tour of Amsterdam runs every day at 10:30 A.M. Both start from beside the national monument, the white spike, on the Dam square, not far from Nieuwmarket stop on the subway map of Amsterdam.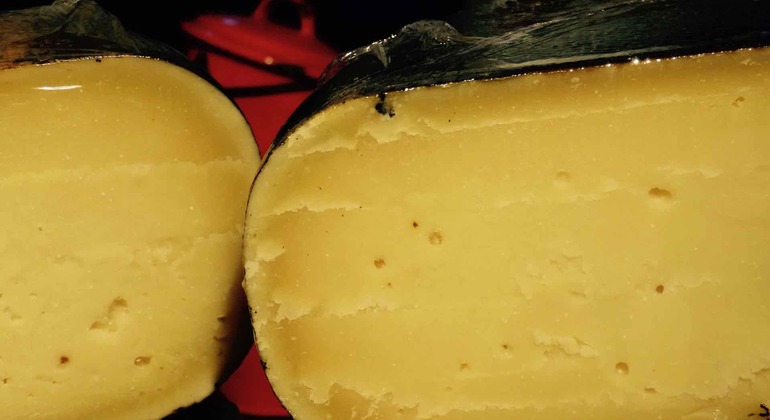 Do I need to book a free tour in Amsterdam?
In most destinations, chances are you'll get onto a free tour if you just arrive in good time before the start time, although booking is always a good idea if you're sure you'll attend. That said, Amsterdam is a particularly busy tourist city, especially during Summer season, so booking your place on a free walking tour in Amsterdam is highly recommended to avoid disappointment. Usually, you can book your place on most free tours via the tour provider's website. You can also book on Freetour.com or the Freetour app without booking fees or charges. If booking online, be familiar with any cancellation or 'no-show' policy that might result in charges if you cancel too late or fail to arrive for the tour.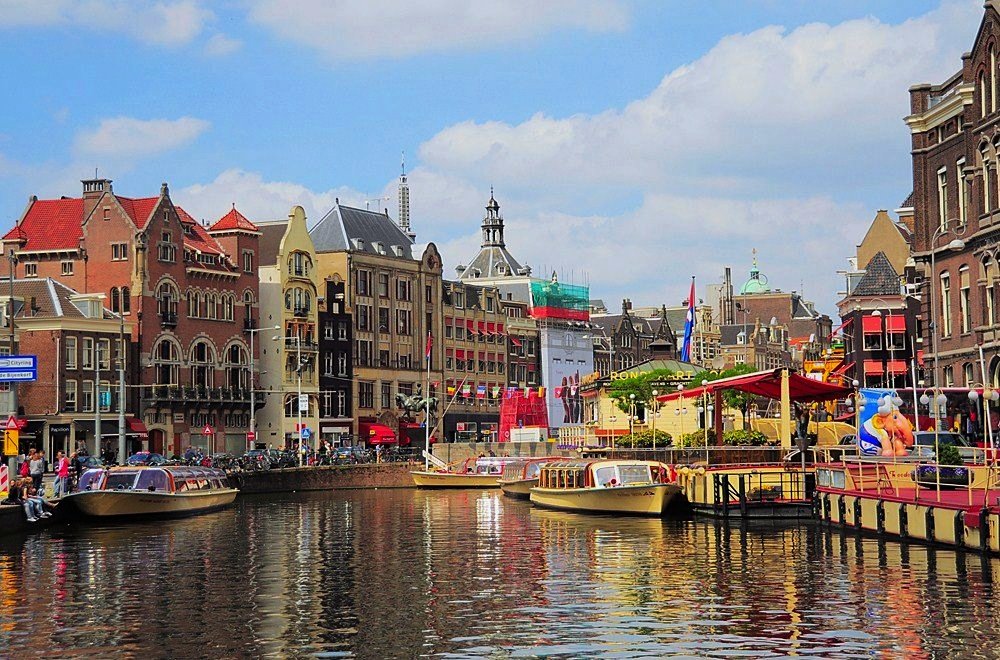 Some tipping tips
Free tours are a fantastic concept and the best way to see a new city on fair terms. It relies on participants valuing the city tour at the end and tipping the guide accordingly. The local city tour guides need to be top quality and they work hard to earn a good evaluation of their walking tour and good tips while bearing the risk of being ripped-off, rather than you – so do be genuine and value the tour in relation to what a paid tour equivalent would cost you, how enjoyable the experience was, if your expectations were met, and of course what your budget can afford.
So, how much should you tip free tour guides in Amsterdam?
As mentioned above, this will be determined on your budget, how worthwhile you found the tour experience to and how you valued the local Amsterdam city tour guide. The cost of a regular paid walking tour in Amsterdam can be anywhere from €12 to €46 per person at the lower to mid-range, and as high as €85 to €100+ per person at the higher end and depending on the type of tour. Our research with local Amsterdam free tour guides shows the average tip is usually between €8 and €18 per person.
That's our advice, insights, and recommendations for doing the best free walking tours in Amsterdam, Holland. All the meeting points for these free tours are easily found on the Amsterdam city centre map in any Amsterdam city guide. Don't forget to ask your city tour guide for local tips and recommendations for the must-sees and things to do in Amsterdam, and after your free walking tour in Amsterdam you can embrace the exciting nightlife of the Dutch capital on great Amsterdam pub crawls. A Dam good time awaits. Enjoy!