If you're a travel junkie, Athens has likely been on your list since you first heard about Ancient Greece all those years ago in school. At the heart of Ancient Greece, the historic city of Athens sits, and it will blow your mind with its depth. The vast range of Athens tourist attractions—free walking tours, history, food, beach, museums, galleries, cafes, markets, shopping, nightlife, and more—means you can enjoy everything you could ever want in a single city. Here are the top 10 things to do in Athens!
Take a free walking tour in Athens
If you've ever been on a free walking tour, you know they're the hidden gems of travel. This is the best way to get to know a new place in a fast and inexpensive fashion, get a unique insight into the vast history of Athens, local culture, and excellent local tips.
One of the best Athens walking tours is the New Athens Free Walking Tour. You can take this tour every single day at 10:20 AM. The meeting point is Monastiraki Square (more on that later!) and it lasts for 2.5 hours. The tour takes you through the heart of ancient Athens where you'll see the old town of Plaka, the Acropolis, and learn lots about local culture and history.
Another great free walking tour in Athens is Toni's Free City Walk in Athens. Her tour takes you through several Athens tourist attractions including historical monuments and local landmarks such as the Temple of Olympian Zeus, Roman Agora, National Garden, Arch of Hadrian, Hadrian's Library, and more! The tour is every day at 9:40 AM for 3 hours and meets at Syntagma Square.
There's plenty more Athens free walking tours to do too, but whichever city tours you take, make sure you ask your guide for local insider hints and tips on things to do and where to eat in Athens – they'll always have the best local knowledge!
Delve into Athens history
If walking tours aren't your thing, here are a few must-visit historic spots you can visit on your own. Greece, particularly Athens, is home to some of the most famous architecture in the entire world. You don't want to miss it when you visit.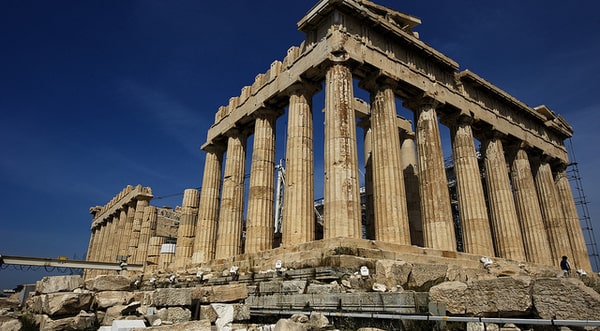 The Acropolis: As a UNESCO World Heritage Site, the Acropolis is a universal monument. It was a sanctuary originally dedicated to Athena and was the site of religious celebrations. Go early if you want to get a good look—the crowds are already present at 8 AM. Head to the Acropolis Museum after, a perfect escape from the Athens sun.
The Parthenon: The Parthenon is another spot where you'll benefit from being there early, when it opens, to beat the crowds. If it's the off-season, November to March, the first Sunday of each month is free. Save some cash and hit it then if you're in town on the first Sunday. Although it might not be less crowded, you can also see an epic view of the Parthenon at night as the sun is setting.
The Temple of Zeus: This temple is considered by many to be the perfect example of Doric architecture. Today, it's just the base of the temple and fallen columns due to earthquakes and Christian zealots. Yet, it's still a great sight and worth a visit while in Athens.
Eat like the Greeks
When traveling, you must always eat like the locals! Here are the top five local foods you must try which will be available in most Athens restaurants.
Moussaka: Usually a lunch dish, moussaka is like a Greek lasagna. Eggplant and ground meat bound together with a tomato base and béchamel sauce on top. Just like lasagna, Greek families often have their own personal Moussaka recipe.
Gyros: This sandwich is loved around the world, but it's not the same as it is in Greece. Gyros are a fast and cheap option with lots of variety. Choose your meat (lamb, pork, chicken, beef) along with salad, sauce, and fries!
Greek salad: Forget the lettuce! Greek salad isn't the same outside of Greece as it is in Greece. A traditional salad includes cucumber, green pepper, tomato, red onion, Kalamata olives, and large squares of feta on top.
Soutzoukakia me Hilopitakia: Another Greek spin on a pasta dish. Meatballs served on an egg pasta with tomato sauce—spaghetti and meatballs anyone?
Loukoumades: Love doughnuts? These are for you! Loukoumades are fried, crispy, light, and fluffy all at the same time! Honey and cinnamon finish off these little beauties just in time to make it in your mouth.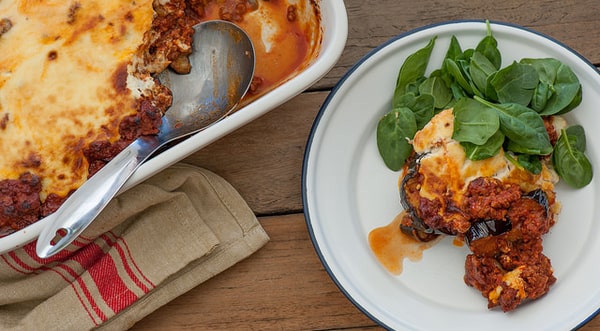 There are also some Athens food tours available in the city, taking you to different Athens restaurants to sample local delicacies and get a delicious insight to local cuisine and food culture. Of course, if you take a general free walking tour in Athens, as always, ask your tour guide for their personal recommendations on where to eat – they'll always be up to speed on the culinary scene in the city and have good tips for cafes and restaurants in Athens.
Head to the beach
Just a short tram ride from Athens is the beach at Asteras in Glyfada! It's a quick 20-minute drive from Athens and accessible by tram. If you have an extra day (or two!), go dip your toes in the sand and run through the water. Greek paradise isn't limited to the Islands!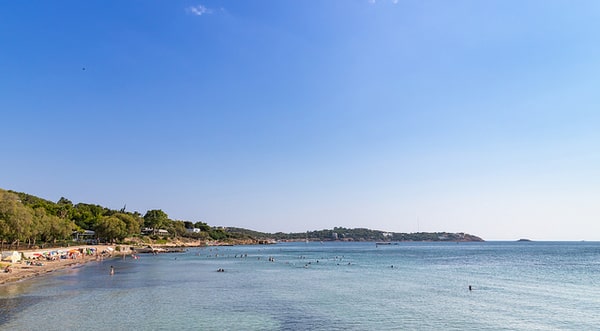 See the museums and galleries
National Archaeological Museum: If you're a fan of archaeology this is the spot for you! This museum has an incredibly rich collection of artefacts from Greek antiquity and is one of the largest archaeological museums in the world.
Municipal Gallery of Athens: Another spot to check out is one that houses a wide selection of Greek artists. You'll be able to see near 3,000 works at the Municipal Gallery of Athens. The gallery is open every day except Monday. On Tuesday through Saturday, it's open from 10:00 to 14:00 and 17:00 to 21:00. On Sunday, it's open from 10:00 to 14:00.
Visit the Plaka
The Plaka is the old neighbourhood in Athens and this is a prime place to go if you're looking for cute little shops to poke around in for an afternoon. While it used to be the spot in the city for nightlife in the 1970s, it has since transitioned to an area full of tourist shops, cafes, jewellery stores, and Athens restaurants. The Plaka is located under the Acropolis.
Go to the Monastiraki Markets
Get ready to barter! The Monastiraki Flea Market is right in Monastiraki Square and adds quite the character to the city. Practically anything you want is available at this flea market, although all of it is guaranteed to be just a little bizarre. Head to Monastiraki on Sunday if you want to see the market at its busiest peak.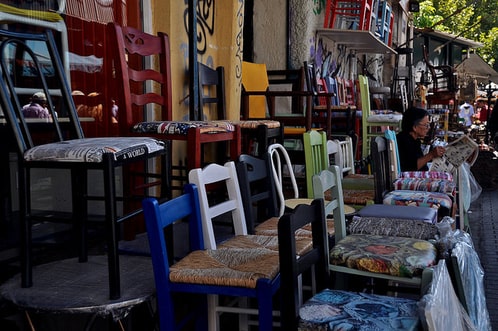 Shop 'til you drop on Ermou Street
Ermou Street, also known as Hermes Street, is the longest shopping street in Athens. You'll find it much like any other shopping district in the world with department stores, high street brands, souvenirs, off-brand items, and costume jewellery. If you're looking for high-end fashion and expensive designer stores, head to the Kolonaki neighbourhood.
Mount Lycabettus
One of the best things to do when you're hitting a new city is to find a high point, so you can get a great view. Mount Lycabettus is that view in Athens which is what makes it a top Athens attraction! Head to the top—either by climbing the stairs or taking a ride on the funicular—you'll get an unbeatable panoramic view of the city.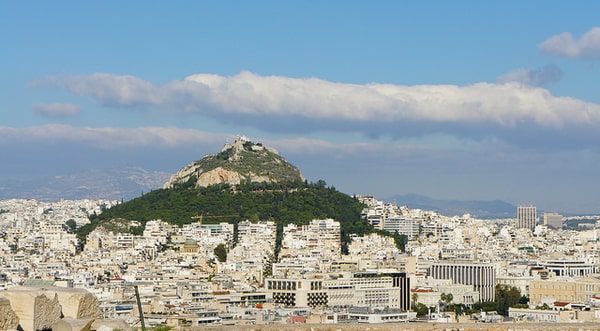 Hit the town and see Athens at night
While you'll always hear varying recommendations about where to go, depending on what you like in your nightlife experience, Koukaki is a solid neighbourhood if you want to try a little of everything. Situated next to the Acropolis, this area has been renovated in the last couple of years. Hit it after you go sightseeing and bar hop all night long. If you're really feeling the nightlife scene, see if you can meet some locals to tell you where to go. Remember, locals always give the best recommendations—in food, nightlife, shopping, anything!
Of course, the best way to meet locals and make new party-buddies to experience Athens nightlife is, without doubt, by joining an Athens bar crawl. Pub Crawls with fun local guides are ideal for ensuring an excellent night, getting into the best bars and clubs favoured by the locals, and saving a pretty penny with free entry to all venues, free drinks and shots, and exclusive discounts. Pub crawl groups in Athens usually number around about twenty to thirty people, so it's a very fun way to meet others and explore the nightlife scene here.
And that's it, dear traveler, our recommended things to do and what to see in Athens, as well as our top tips for eating, partying, and relaxing in the Greek capital. If you've yet to spend some vacation time in Athens, seriously, do yourself a favour and get on it! The beautiful blend of a most ancient character with impressive modernity, incredible scenery and panoramic sights - breathtaking both by day and by night, an unrivalled sense of history and culture, delightful weather and atmosphere, and friendly locals, imbues Athens with an alluring charm that, once felt, will captivate you and ensure Athens' firm position at the top of your 'to return to' list.