Some of the best locations to visit are just outside of popular destinations, Tel Aviv is one of them. Tel Aviv is a city northwest of Jerusalem that has incredible beauty in its beaches and architectural jewels, things to do and see, and many fascinating attractions to visit. Known as the nightlife central for Israel, Tel Aviv shows a different side full of coloured lights, great music, and dancing if you wish to partake. During the day, beautiful beaches host visitors and locals alike.
Tel Aviv is not out of reach, in fact, it is an affordable location if you find the right locations, free walking tours, beaches, and food. We are here to help you with the planning process and have collected the top tours, attractions, and more to receive a full and authentic experience of Tel Aviv.
Join a Tel Aviv Free Walking Tour
With incredible architecture and history to share, the best ways to tour Tel Aviv, see the must-see attractions, hidden gems and learn about local culture is through a walking tour. Fortunately, there are several free walking tours in Tel Aviv to choose from.
For history buffs, walking tours are the perfect way to take in the culture and past, while walking the city's streets. Free city tours are available for exploring a range of topics and areas of Tel Aviv, including the White City, which features Bauhaus architecture, Old Jaffa, and even local markets. There are two free tours we highly recommend though, especially if you have limited vacation time here.
The Best of Tel Aviv free tour
For a tour that delivers a little bit of everything, but with great insight to it all, join an expert local guide on the Best of Tel Aviv free walking tour. The tour dives into the culture, history, and incredible places and sights in the city center. Some of the highlights are Haim Gutman's fountain, Akiva Weiss, the house of the city's founders, and Shalom Tower.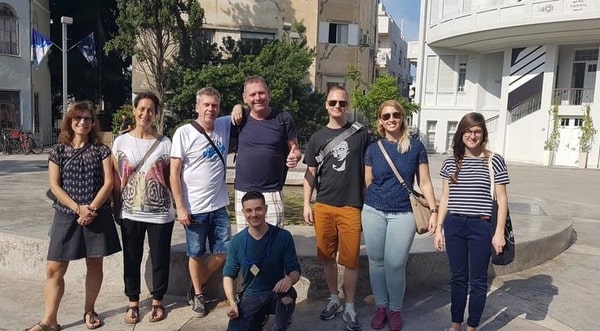 Free Graffiti Tour in Florentine
Experience the captivating world of urban art with a look at the expressive graffiti in Florentine. More than aesthetically impressive and artistic attractions, these murals and messages tell the tales of Tel Aviv. A free tour of graffiti in Tel Aviv is a very interesting way to get a unique insight to both the history and the modern culture of the city, as well as an understanding of local sub-cultures.
Tel Aviv Local Food
There is a rumour that Tel Aviv is home to the best tasting hummus in the world. Of course, you would have to try it for yourself to decide. The best way to taste your way through Tel Aviv is by eating authentic foods at local restaurants and cafés. Here are a few of the most popular local eateries.
Abu Hassan Hummus
Stated by many to be the location of the "world's best hummus" Abu Hassan is famous among locals and visitors alike. A stop here is a necessity to try the legendary dish. The original and first of three, Abu Hassan Hummus restaurants is situated in Jaffa, on Dolphin Street.
Ha-Dolfin St 1, Tel Aviv-Yafo, Israel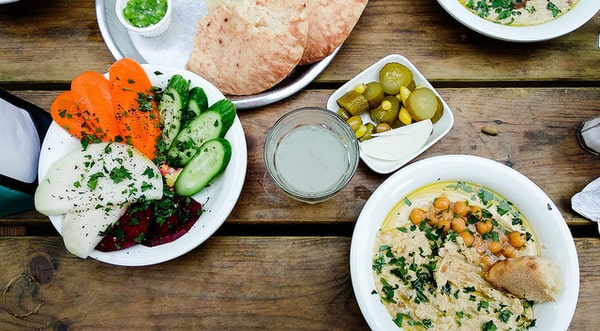 Café Dallal
A wide selection of pastries is made fresh daily at Café Dallal. Choose from traditional Israeli foods or European favorites, either way you can't go wrong. You can find it in the Neve Tzedek area in Tel Aviv, at 108 Jabotinsky Street.
Shuk HaPishpeshim (Jaffa Flea Market)
For the authentic Tel Aviv experience, visit a Jaffa Flea market. You will find a range of items at these markets, including excellent locally sourced and produced food. While you are there, shop around - you may just find the perfect souvenir.
And that takes us nicely into our next recommendation, shopping!
Shopping in Tel Aviv
When in the Mediterranean, market shopping is a must! Tel Aviv offers a variety of shopping options to find that perfect souvenir from your trip.
Sarona Market
This market is one of the largest in Tel Aviv and its location has an interesting history. The Sarona Market is composed of 8,700-square-meters of homes and shops called the Sarona Compound. The most fascinating element of this market is its international options. One could spend days roaming the many shops offering foods from around the world, clothing, books, shoes, and more. The Sarona Market is prepared for shoppers with grassy areas and lily ponds offering spots to rest in between shopping.
Carmel Market - Shuk  HaCarmel
If you are looking for a sample of the fresh produce in Tel Aviv, or for new clothes visit the Carmel Market. A plethora of affordable produce lines the market with fish, vegetables, fruit and more. Clothing is also sold at excellent rates. Walk through the Carmel Market to absorb a piece of Tel Aviv culture.
Indoor Port Market
Looking for something to do on a rainy day? Indoors is the place to be. Indoor Port Market is one of the more modern markets in Israel and it is one of a kind. Indoor markets are rare in the Mediterranean, which is even more reason to visit. While you shop, watch cooking demonstrations or partake in some of the delicious foods offered such as the handmade pasta bar.
Experience the Nightlife in Tel Aviv
Whether you are a fan of the party scene or not, the nightlife in Tel Aviv is something everyone can embrace - voguish venues and beautiful bars create an evening atmosphere ripe for fun.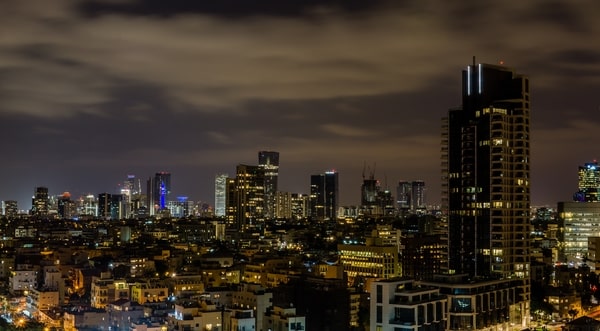 Pub Crawl
To experience the best of Tel Aviv nightlife, join a pub crawl tour. These bar crawl tours are perfect for meeting fellow travelers for a night out in Tel Aviv with some friendly local pub crawl guides who know the most popular hotspots, local favorites, authentic TLV bars, and the hip locations to visit for a great night. You'll get free entry to all venues, including fantastic clubs, as well as save a small fortune thanks to free drinks and special discounts.
Old City of Jaffa
As the oldest part of Tel Aviv, the Old City of Jaffa is still one of the most visited locations for nightlife. Art lines the streets of Old City, in the architecture of the churches and mosques, and in the many sculptures throughout the area. Several fashionable bars and restaurants sit alongside art galleries, clock towers, and museums. Arguably, the best thing about the Old City is its elevation; tucked into the side of a cliff along the coast, it's a remarkable location in which to experience the nightlife as beautiful ocean views become a dazzling display of twinkling lights.
Tel Aviv's Rothschild Boulevard
For a nice afternoon stroll before the evening's events, check out Tel Aviv's Rothschild Boulevard. Tree's line this beautiful walkway and create a lovely tunnel as you stroll along the green grass patches. Wander past shops and cafés or stop in and explore these charming businesses. After dark, the south end of the boulevard lights up with nightlife destinations. Many places such as The Prince offer a rooftop view. While Bicicletta has a "garden of good vibes" and Beit HaAmudim is a jazz scene with a laid-back atmosphere.
See the Natural Charms of Tel Aviv
Natural charms are tucked throughout Tel Aviv. Many may stumble upon these attractions by accident, but here are a few must-sees that you should make sure not to miss.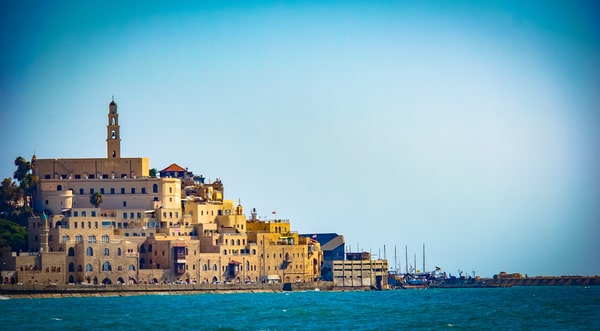 Lake TLV
For water-sports galore, Lake TLV is the destination. If you visit in the months of October through May you can watch water-sport tournaments. The remainder of the year Lake TLV is open for visitors to enjoy their favorite water-sports, or try out a new aqua activity. Seven obstacle courses offer the chance to test your skills on the water. Bars and cafés are located on the shore to cater to your needs for a day on the lake.
Park HaYarkon
Park HaYarkon is the most popular park in Tel Aviv and for good reason. Locals enjoy the park for its large walking paths and lush trees for daily strolls, while many visitors are shocked by the number of attractions this park has in store. On the eastern end of the park are beautiful gardens, including a Rock Garden displaying over 3,500 plant species. Across from the Rock Garden, a plethora of palm trees, lakes of fish, and orchids are housed in a Tropical Garden. Additionally, a bird safari, petting zoo, bird sanctuary, and play area for kids are reasons more everyone loves this park.
Visit Museums
Museums are a great way to learn more about the culture and history of a new location, and Tel Aviv is no exception. Be inspired by the massive collections of art and enthralling history at a Tel Aviv museum.
Tel Aviv Museum of Art
With a huge range and quantity, the Tel Aviv Museum of Art is home to Israel's largest art collection. Masterpieces from Van Gogh, Chagall, Modigliani, and Monet are just a few of the works featured on the walls. There is something to engage and interest everyone at this museum.
Museum of the History of Tel Aviv-Yafo (Beit Ha'ir)
Located in the "White City", the Museum of History of Tel-Aviv is a must see if you are in the area. Multimedia exhibits tell the story and past of Tel Aviv in a fascinating way.
Enjoy the Beaches in Tel Aviv
There is something special about a beach town. When in Tel Aviv take advantage of the magnificent beaches. There are many to choose from, but here is a couple of the most popular for good reasons.
Tel Aviv Promenade
Tel Aviv Promenade has everything that one could imagine on a picturesque beach. Offering plenty to do along the boardwalk, you will not be bored at the Tel Aviv Promenade. While visitors love the attractions on this beach, the locals also flock here. Take in the Tel Aviv beach life or gaze at the views of Old Jaffa to the south.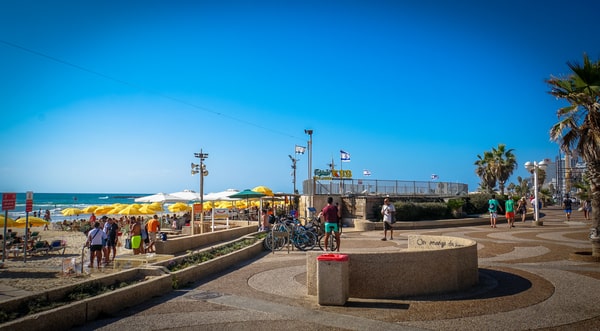 Surf Point
Tel Aviv is a great location to try new things. Ever wanted to surf the wind, sand or waves? Look no further than Surf Point. Surf Point is a favorite beach in Tel Aviv among the daring, with lessons available for practically any water sport.
Metzitzim Beach
Take a trip to the northern terminus of Tel Aviv to play and relax at the Metzitzim beach. Swimming, sunbathing, and sand sports are on the daytime-agenda here, while evening brings with it dining and parties. Visit on Friday nights in the summer for regular beach parties.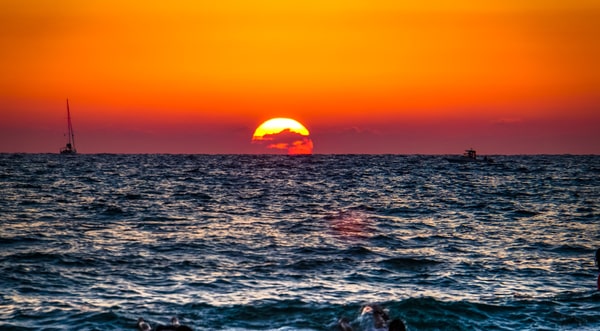 As home to so much to do and see, attractions to visit, and free tours to enjoy, the city of Tel Aviv, with its stunning architecture, relaxing beaches, great food, thriving nightlife, and rich cultural heritage is a treasure waiting to be explored.