As the capital of Spain, Madrid offers some of the best tourist attractions and things to do in the world. Whether you're ready for a day full of free walking tours, hope to catch a glimpse of the royals at the Royal Palace, want to experience art in a transformational way with a viewing of Picasso's work, shop 'til you drop on the Gran Via, or dine in some of Spain's best restaurants, Madrid is the city for you! Don't miss out on any of what this destination has to offer. Here are the top 10 things to do in Madrid.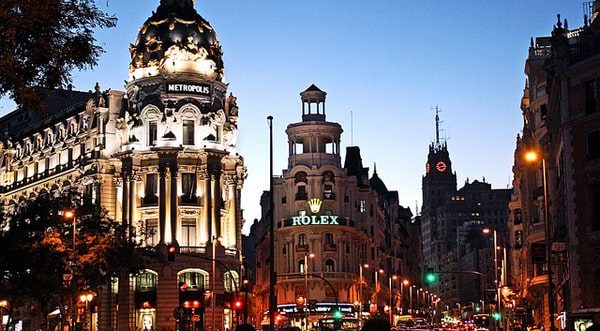 Take a free walking tour
Free walking tours are an incredible way to experience any city. If you've yet to do one, Madrid is as good a place as any to join your first free tour. Madrid city tours, specifically free tours, are the perfect way to make sure you see the most you possibly can in a short amount of time here.
If you're unsure about which free tour to take, try these on for size. There's an abundance of free walking tours in Madrid so you really can't go wrong.
We recommend Free Walking Tour: Madrid Essentials for a thorough overview of Madrid and an introduction to many of the city's must-see sights and tourist attractions. Head over to the meeting point at Puerta del Sol, one of the public squares, and join this tour if you want to learn more about Madrid. You'll see Puerta del Sol, Oso y Madrono, Plaza Mayor, Casa de la Panaderia, Puerta Cerrada, and more!
Another great free walking tour to check out is — it's ideal for a real deep dive into Madrid's fascinating history and historic neighbourhoods. In addition to Puerta del Sol and Plaza Mayor, you'll see Calle de Cuchilleros, Muslim Origins, Mercado San Miguel, Calle Mayor, Palacio Real de Madrid, and much more. The meeting point is Plaza de Canalejas and this free tour is for adults only.
Of course, any list of things to do in Madrid should start with Free walking tours, as should any visit to Madrid; a free city tour here is not only a great way to start out in the city and help get you oriented while learning so much, but also a great opportunity to get local insider hints & tips for the rest of your time in the city from your expert and friendly local tour guides – even simple recommendations for avoiding tourist-traps and making sure you find the local-loved, best restaurants in Madrid can make a huge difference to your overall experience here.
See Puerta del Sol
Puerta del Sol is the buzzing public square right in the middle of lots of different things to do in Madrid. Here you can find the 'Center of Spain' plaque, a main tourist attraction in the city. As Madrid is the center of the radial network of Spanish roads, Puerta del Sol has a plaque that designates the exact "center of Spain." Go find it and snap a couple pics! It's also just a short walk away from the Plaza Mayor, another large public square filled with cafes and shops.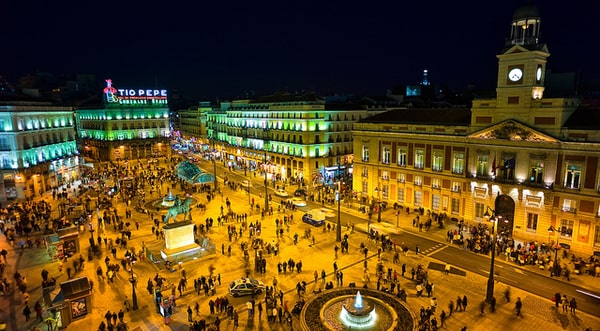 Row a boat at Parque del Retiro
Parque del Retiro is one of the largest parks in Madrid and belonged to the Spanish monarchy until the late 1800s when it became public domain. Fittingly, if you visit Madrid during warm weather months, you'll find this park packed with locals and tourists alike.
In the Retiro Pond, you can pay a mere six euro for an entire rowboat for the duration of 45 minutes. You'll see individuals getting a workout, sunbathing, snapping photos, and enjoying the company of their companions. For such a popular activity, rowing boats at Parque del Retiro are both inexpensive and fun. After you're done, you can take a stroll in the park to discover what else it has to see. There are several statues and buildings throughout the park as you walk. Additionally, during the warmer months, the park holds free concerts on Sundays.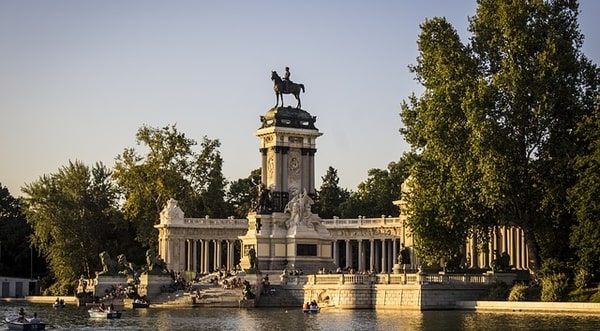 Watch the sunset at Temple Debod
Temple Debod is another popular tourist attraction. It's an ancient Egyptian temple that was dismantled and rebuilt in Madrid. The real hack of this attraction is going to see the temple while the sunset. It's likely to be crowded—it's a well-known trick—but it's still plenty worth it.
You'll have the opportunity to toast your trip if you want to bring along some wine and listen to street performers busking in the park that surrounds the temple. Make sure you snap some pictures—it'll be one of the most unforgettable parts of your Madrid trip by far.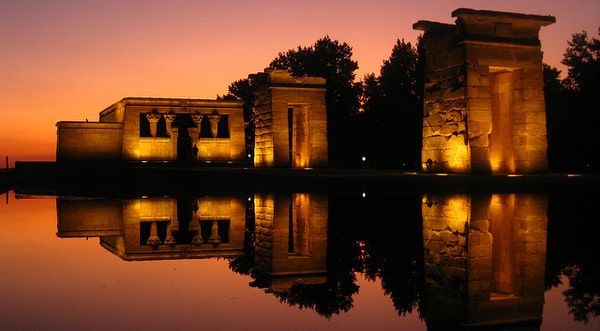 Visit the Royal Palace
The Royal Palace of Madrid is the "official" residence of the Spanish Royal Family—although it is truly only used for state ceremonies. Instead, the family leaves in a more modest palace called the Palace of Zarzuela just outside Madrid. Still, everyone wants to visit the Royal Palace while they're in Madrid as the building is magnificent. If you're interested in doing this as well, be sure to book ahead of time! Doing so allows you to skip the line. Bonus: if you do it with a student ID, it's cheap!
Experience Picasso at Museo Reina Sofia
As one of the most famous artists in history, any art museum that Picasso is in is probably worth your time. Another top thing to do in Madrid is seeing his famous painting, La Guernica, at La Reina Sofia. Although the museum carries a hefty fee for adults, it is free for students under 25 so make sure to travel with your student ID and passport if you're still blessed with such youth. There's also a plethora of incredible artwork in this museum by other artists (even if they're not Picasso!).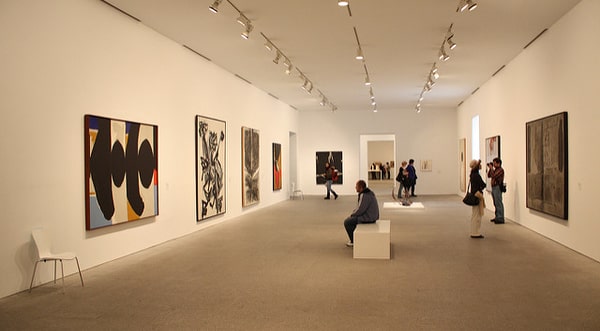 Shop on The Gran Via
If you're looking to kill time and spend some cash, do it on the Gran Via. This street is sometimes called the "Spanish Broadway" and is one of Madrid's most important shopping areas. The street leads from the longest street in Madrid, Calle de Alcalá to close to Plaza de Cibeles and Plaza de España. Even if you're not looking to shop, you can always stroll down the street and see what catches your eye. The street itself is less than a mile long.
Eat Churros at Chocolateria San Gines
Who doesn't love a good churro?! The best spot to get them is Chocolateria San Gines which has served chocolate and churros since 1894. It is Madrid's oldest chocolateria and is tucked away down a little side street so you might have to go hunting for it. You'll have plenty of time though. The shop is open 24 hours—great if you're jet-lagged or coming in from a late night of partying.
Munch on local food at Mercado San Miguel
In addition to having some of the best restaurants, Madrid also has an indoor food market called Mercado San Miguel which gives you a ton of different options. The 33 vendors inside San Miguel sell a variety of items ranging from fresh produce to coffee to alcohol to seafood to meat. Anything you want, San Miguel likely has it! Use this as an opportunity to try as many local foods as possible.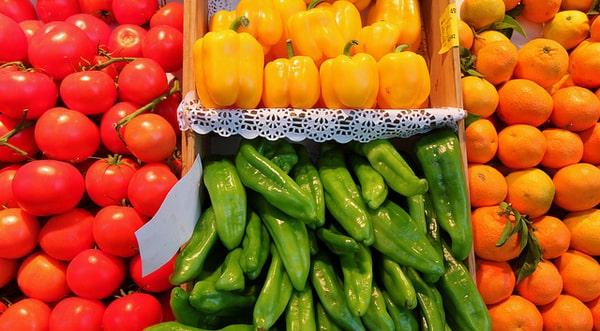 Party all night long at Teatro Kapital
Are you looking to party all night? Madrid can be a great city for that. Its nightlife is abundant and lasts into the early hours of the morning. If you're looking for a good time, head to Teatro Kapital! Kapital is the largest club in Madrid with 7-stories of fun. There is a 19-euro cover fee, but that not only gets you into the club, it also gets you drinks. If you go before 1:30, you get 2 free drinks. If you go after 1:30, you get 1 free drink.
Overall, Madrid is a great city for anyone looking for a fun weekend. The city is small enough to walk to most major attractions in the same time it would take to use transit, and free walking tours are an amazing option to help you get from one point to another and see the top tourist attractions along the way.